Attila the Stockbroker and Alex Hall, in conjunction with Mel Gordine-Tyler, Church Farm,
and The Ropetackle Arts Centre present...
GLASTONWICK 2019
ADUR'S 24th ANNUAL BEER, MUSIC, POETRY,
AND MORE BEER FESTIVAL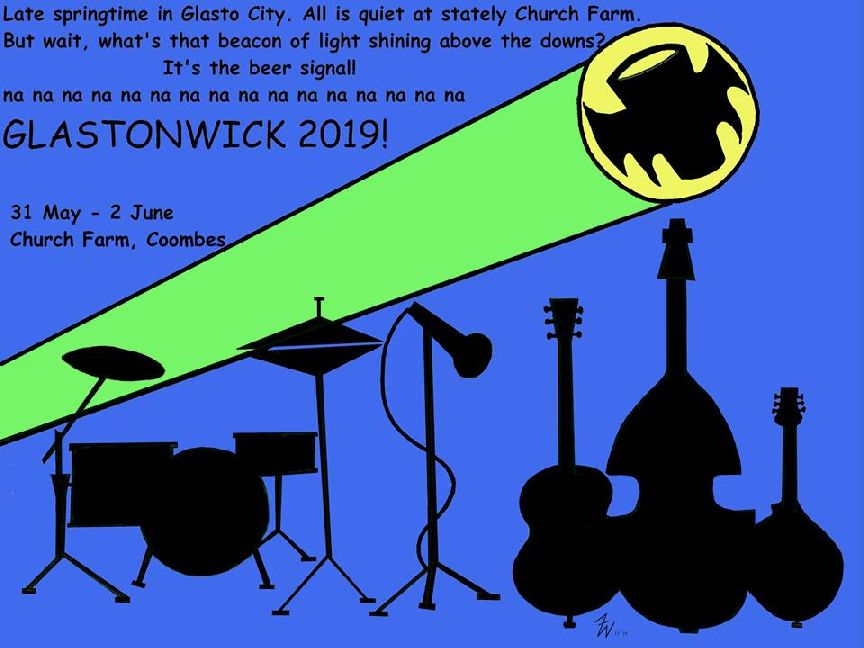 FRIDAY 31 MAY 2019
6pm-Midnight
SATURDAY 1 JUNE 2019
Noon-Midnight
SUNDAY 2 JUNE 2019
Noon-6pm
AT LEAST 75 MOSTLY RARE CASK-CONDITIONED BEERS
FARMHOUSE CIDER, PERRY, AND KOMBUCHA
20 LIVE MUSIC AND RADICAL POETRY ACTS
Church Farm,
Coombes,
West Sussex
(North of Lancing College)
BN15 0RS
United Kingdom
For the 24th consecutive year, and our 13th at the fabulous rural location of Coombes, this popular festival will again bring sleepy Sussex to life in 2019.
As usual, the event is organised by the founders of Glastonwick - namely legendary local punk poet and musician Attila the Stockbroker and international cask beer advocate Alex Hall, with a little help from their friends (ESPECIALLY Mel Gordine-Tyler).
As in previous years, we promise you a weekend of enormous quantities of delicious real ale (including many new brews as usual), farmhouse cider, perry, and top quality entertainment.
Frequent trains run to Shoreham from Brighton, Worthing (both only 10 minutes away by train) and other stations along the West Coastway Line. From there, jump on our special shuttle bus linking the festival with Shoreham Railway Station and The Duke of Wellington (plus one daily journey each way from Brighton).
Camping is offered on site for £7.50 per night. Note you must book in advance for Friday and Saturday if you wish to camp on site. Sunday camping, for the few who wish to stay until Monday morning, needs to be arranged at the venue after arrival (ask at the token booth).
---
THIS EVENT WILL ALMOST CERTAINLY SELL OUT QUITE QUICKLY!!!!!!
THAT MEANS BUY EARLY OR MISS OUT...
TICKET PRICES (unchanged from 2018):
Friday 6pm to midnight - £15
Saturday noon to midnight - £25
Sunday noon to 6pm - £10
Camping - £7.50 per night
(Friday and Saturday, also Sunday by arrangement when you get there). Entrance prices still remain the same and are still dirt cheap for what you get.
That's £65 for a full weekend with two nights camping, or £50 without camping.
'Scooper's Special' (limited quantity, mail order only) -
£5 for access to the beers Saturday noon to 5.40pm
(giving 12 minutes drinking up time for the 5.52pm bus).
Tickets will be on sale soon.
Buy tickets online courtesy of our friends at The Ropetackle Arts Centre in Shoreham.
If you are too late to book tickets, I suggest a regular check of our Facebook page for spares up for grabs. Link near the bottom.
SURPLUS TICKETS - If tickets are paid for by credit card or cheque, there is no resale value on the door for any that are surplus. Please don't ask the door crew to try to resell them - they have enough to do and there are rarely walk-ups as the event will sell out well in advance (at least for Friday and Saturday, Sunday quite possibly also) and that is well known. If anyone has friends that can't make it who you purchased tickets for, please advertise any surplus tickets on the event's two Facebook pages (general group, and 2019 event page - both linked from here below) - and arrange a private sale. Re-iterating, we can't take surplus tickets on the door for resale. If you pay by cash at one of the pubs, go back ***at least 48 hours*** before the start of the festival on the Friday and you can get a cash refund. No refunds can be given after the Tuesday.
CHILDREN are permitted but they must be subject to responsible supervision at all times. There may possibly be tractor rides on Saturday afternoon depending on the weather (consult the venue). Under 12s: free admittance, 12 and over need to purchase tickets at the adult price. Children must keep away from any fruit trees or plants growing around the barn area, and must not enter any farm buildings that are not part of the festival.
DOGS are not permitted anywhere on the site as it is a working farm, sorry.
Ticket enquiries:


You can purchase tickets in person at the following outlets:


The Duke of Wellington, 368 Brighton Road, Shoreham-by-Sea (01273 441297);

Southwick Beer Engine, 2 Southwick Square, Southwick (01273 945694). Note - closed Mondays;

The Evening Star, 55-56 Surrey Street, Brighton (01273 328931);

Anchored in Worthing, 27 West Buildings, Worthing (01903 529100);

The Ropetackle Arts Centre, Little High Street, Shoreham-by-Sea (01273 464440) in person and online.

For postal applications, send a cheque made out to Barnstormer Events with your ticket requirements and a stamped-addressed envelope to

Attila the Stockbroker
P.O. Box 668
PORTSLADE
East Sussex
BN42 4BG
If any admission tickets are available through last minute returns (unlikely!) they will be sold on the gate, but you are very strongly advised to purchase tickets well in advance as this event sells out. Friday and Saturday camping tickets MUST be purchased in advance and will not be sold on the door.

Please note that the organisers reserve the right to refuse admission.
Ticket status:
Not yet but soon.
Tickets will sell fast, don't leave it too late!
---
THE ENTERTAINMENT - NO CRAP!
Artists may not appear in the order listed above or at the times shown.
---
THE BEERS - NO CRAP!
Sourced as always by Alex Hall
WHAT IT'S ABOUT
Back in 1996, I co-founded Glastonwick with Attila and the late Roy Chuter, who ran Attila's postal mailing list at that ancient time before email was common, and way before Facebook and Twitter were conceived.
The concept was Attila's idea, pairing the very best musical and poetic talent with the very best real ales in the same venue, which then was Southwick Community Centre and the adjoining Barn Theatre (hence the 'wick' suffix in the name). He needed an experienced beer coordinator and cellar person to make it work, I jumped at the chance as I was keeping the cellar at Brighton's Evening Star - which had the fledgling Dark Star Brewery down there at the time. Roy was the original staffing coordinator.
It was conceived as a revolutionary idea in the rather staid 1990s, back then many beer festivals had a token covers band stuffed into a corner to be ignored - and pretty much all music festivals that Attila played at had global corporate sponsors where the only stuff to drink was bland, gaseous, overpriced, mass-produced keg lager and cider swill that none of us would even remotely consider torturing our palates with. We jointly wanted to provide an antidote to all that. And we did.
REAL ALE & KEG BEER - THE DIFFERENCES AND THE CORPORATE INTERLOPERS
'Real ale' is a term coined by CAMRA, Europe's most successful consumer campaign group. Otherwise known in the industry as cask-conditioned beer, these here at Glastonwick are all hand-crafted by brewers who are dedicated to keeping tradition and quality alive in the face of the ever-present spectre of global corporate standardisation, and the resulting dumbing down of taste and loss of local craftsmanship. A few real ales are corporate owned, such as Sharp's with their ubiquitous Doom Bar - owned by American giant Molson-Coors. Glastonwick only ever features beers from independent breweries who are the antidote to the voracious global giants. The same goes for the cider and perry range too, all from small cider makers.
We don't feature keg beer (artificially force carbonated, so gassy, usually filtered, and sometimes pasteurised) at the main festival stillages (though it can be found elsewhere, but not an official part of the festival line up). Many keg beers you commonly encounter are mass-produced corporate piss, but a rapidly growing number of smaller breweries put good beer into kegs. These are generally more expensive and less enjoyable for many styles because of the gas and chilling involved, I still believe real ale is usually the way to go. Through the years, there has been a quality stigma with keg beer and rightly so until recently with a few "craft" beers as they tend to be called in the UK. "Craft" is a term coined by the American Brewers Association to define beer, keg or cask, bottle or can, from a small(-ish) brewer not totally or greatly owned by a major swill producing corporation. There is much confusion in this country as nobody has laid down a specific definition here, so you'll see things like Blue Moon (a Molson-Coors product but with no recognition of that) fanatically advertising as "craft". It is about as craft by the US definition as calling Watney's Red Barrel an exotic barleywine from a tiny producer. Utter marketing bullshit propaganda is rife in that department sadly.
Other breweries have sold their souls as such to giant global corporations. For instance Meantime, which started independent but was gulped up by SABMiller (later resold to Asahi Breweries of Japan), and Camden Town, being taken over by Anheuser-Busch InBev. BrewDog kicked out Camden Town beers from their pubs when the news was announced, and I salute them for that (but not for ceasing to brew their own real ales). Any keg beers marketed as "extra cold" should be dumped in the sea (with apologies to any nearby fish). Maybe that would guard against global climate change! The only reason for the extra chilling is to mask how bad they are to taste when they are tried at a temperature that doesn't give your tongue frostbite.
The local and much loved Dark Star Brewery, who sponsored Glastonwick in the past, was purchased by Fuller's in February 2018. That was ok in my eyes as Fuller's maintained independent, family values. Unfortunately Fuller's themselves were gulped up by Japanese giant Asahi in January of this year. So Dark Star is now Japanese corporate owned. A far cry from just 7 casks per brew in the cellar of The Evening Star back in the 1990s.
THE RANGE AT GLASTONWICK 2019
As always, I do my best to give you the most eclectic beer selection possible. There will be a few local favourites, while everything else is rare, eclectic, new, or in many instances unique to Glastonwick.
Please note NOT ALL BEERS AND CIDERS WILL LAST THROUGH THE WEEKEND; they will be served from Friday night (as long as they are ready – the beers need time to settle and condition) until they run dry. When ordering, please ask for the FULL NAME INCLUDING BREWERY to speed service as they are arranged on the stillage in alphabetical order left to right by brewery name. Please go to a server near the cask of your choice. Please always be observant of our necessary rules in order to make a great event for everyone.
Glastonwick 2019 will have at least 75 cask-conditioned beers plus real cider and perry.
---
WHEN YOU GET THERE - IMPORTANT THINGS TO NOTE
Each day, irrespective of whether camping or not, please hand in your entrance ticket and you'll get a colour-coded wristband. Musicians and volunteers must get these as well. Then you need to buy some beer tokens! You'll need the correct colour wristband to be served at the bar - please display it prominently. It's a working farm, glass isn't allowed – so strictly no glass on site please.
KEEP GLASTONWICK TIDY! Please make sure every last bit of rubbish goes in the black sacks. It would be even better if you can take your rubbish home with you. NEVER stuff rubbish down rabbit holes!
PARKING for non-campers is in the field immediately to your left as you arrive on site. For campers (including those with camper vans, etc.) and musicians, it's in the camping field. Please don't pitch tents in the car park. CAMPING is in the top field to the right, past the music barn, beyond the cattle grid – there's a sign. Please don't camp in the enclosed space to the left, and look out for rabbit holes! STAND PIPE is in the camping field and there's another cold water tap at the back of the toilet block. TOILETS & SHOWER are next to the barn and more toilets are in the camping field. DO NOT TOUCH THE STOPCOCK IN THE FIELD! Barbecues, camping stoves etc are OK but PLEASE NO FIRES, and when the music stops and the bar shuts PLEASE KEEP THE NOISE DOWN in the camping field and on the way out. Other campers want to sleep and we don't want neighbour complaints. The camping field is very big so those who want to go straight to sleep should camp at the end nearest the barn, while hardier souls should head down towards the far end. Please don't wander into the farm bits, jump on the bales or climb on vehicles – they are out of bounds!
***Campers are very strongly advised to bring a torch and a plentiful supply of batteries for the weekend - the camping field is very dark and there are rabbit holes!***
NOT ALL BEERS AND CIDERS WILL LAST THROUGH THE WEEKEND; they will be served from Friday night (as long as they are ready – the beers need time to settle and condition) until they run dry. When ordering, please ask for the FULL NAME INCLUDING BREWERY to speed service as they are arranged on the stillage in alphabetical order left to right by brewery name. Please go to a server near the cask of your choice.
2- and 4-pint take out containers will be available for taking beer or cider home or up to the camping field, but STRICTLY ONLY BEFORE 'TIME' IS CALLED.
Do not take food or drink on the shuttle bus!
Be respectful of trees and plants growing around the farm buildings. Do not touch them, let alone pick any fruit that's growing. If you have children, be watchful and don't let them play anywhere near the plants.
---
IMPORTANT - THE FOLLOWING ITEMS ARE STRICTLY BANNED FROM THE PREMISES:
- ILLEGAL DRUGS. If alcohol isn't enough you don't belong here.
- CHINESE LANTERNS. Too much of a fire risk. Bring a torch.
- ALCOHOL FROM OFF SITE. This is both a beer festival and a music festival. What prat would bring beer to a beer festival, or drink their own spirits at one?
- GLASS (especially bottles - see the previous line), INCLUDING PERSONAL BEER GLASSES. This is for the safety of the farm animals and any hippies with holes in the bottom of their sandals.
NO EXCEPTIONS FOR ANYONE. THAT READS:
***NO*** EXCEPTIONS!!!!!
---
VOLUNTEERS
We will be relying on volunteers to serve and do other duties while the event is on
(volunteers are also needed for the set-up and take-down).
Contact Mel Gordine-Tyler for staffing applications, see the contacts section below.
Volunteers may partake for free *WITHIN REASON* while serving.
Helpful tip: Write your name on your glass for ease of recognition
(preferably using masking tape which should be provided).
Mel's Facebook volunteer page can be found here.
---
---
PLEASE DON'T DRINK AND DRIVE.
USE PUBLIC TRANSPORT INSTEAD.
WE HIRE SHUTTLE BUSES ALL WEEKEND WHICH ARE FREE TO USE.
THERE'S NO EXCUSE TO DRINK AND DRIVE AT GLASTONWICK!
LOCAL TAXI NUMBERS: 01273 414141, 01273 595959, 01903 595959, 01273 204060.
---
CONTACT:

Alex Hall, beer & brewery co-ordinator:
Until late April +1 917 957 7623
(NOTE - INTERNATIONAL RATE!);
After late April 07756 956483

Attila and Robina, entertainment co-ordinators:
07598 324552

Enquiries via email:

(beer)


(entertainment & postal ticket applications)


(volunteer staffing applications)
If you are a caterer offering your services, please do not contact us as all food arrangements have already been made. The same applies to musicians, etc., seeking a slot.
---
Please note that this is not a CAMRA-organised beer festival
(so may not be advertised in their publications).
That said, we do support CAMRA's efforts.
---
GLASTONWICK PHOTO ALBUM - PAST FESTIVALS
To give you an idea if it's your first time, or try to spot yourself if not...
2018 (soon) 2017 2016 2015 2014 2013 2012 2011 2010 2009 2008
There are a number of live videos from previous festivals on YouTube - just search for keyword 'Glastonwick'.


Click on the above logo to go to the Glastonwick Community Group on Facebook.
The calendar / event page on Facebook for Glastonwick 2019 is here.
Last updated 31 January 2019